Ask Sakuraya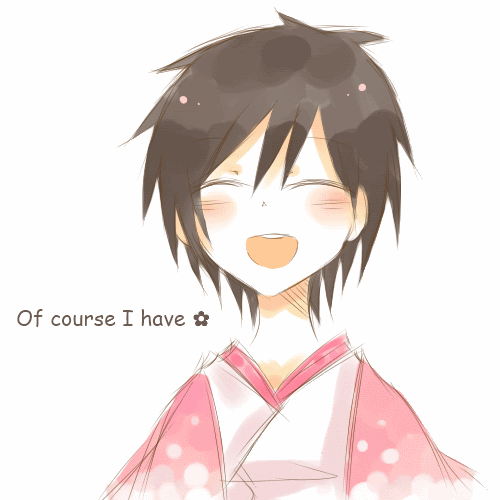 "Of course I have! ✿
Psyche:
Psyche-chan is adorable.
Likes hiding in my yukata.
Sings a lot.
Loves bunnies.
Can be scary when mad.
Is wary when I spend too much time with Tsugaru.
Hibiya:
Likes to be addressed as Hibiya-sama
Is cute when he's tsundere.
Seems to like Delic's company but doesn't show it.
Always says how I have a better butler than him.
Roppi:
Is also a bit tsundere.
Doesn't talk very much.
Sticks with Tsukishima a lot.
Is like Izaya-san's opposite.
Is adorable."
((Sorry if you couldn't read the text! (。ŏ﹏ŏ) I also had to upload the GIF from photobucket so click on the square thing to see it!))
I use L'oreal. Because I'm worth it.
((OOC: Sorry for the long time no post! (╥﹏╥) Click for full view))
"Sakura flowers and petals~ For some reason there's always a rain of sakura petals where ever I go…"
Click to see a better view xDD